Pearlescent Rabbit Vibrator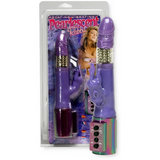 The Pearlescent Rabbit is much slimmer than most and a little shorter but still offers the same unbeatable stimulation and value as its bigger cousins.

This sexy looking toy comes in a glitter purple jelly finish with a pearlescent finish control at the base.

The shaft rotates in two directions with the push of a button while the steel balls spin round inside offering amazing vaginal stimulation.

The leaping rabbit clit stimulator nestles into the clitoris with his legs either side and the vibration speed can be controlled with one button on the base unit.

All in all a product that is as functional as it is pretty.

Highly recommended!