Jack Rabbit Pearl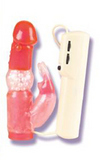 Find out why Charlotte of Sex and the City became obsessed and find out why it's the world famous, unique, and amazing sex toy - The Jack Rabbit Pearl.


The jelly shaft and head of the jack rabbit rotate for intense stimulation.
The distinguishing feature of the jackrabbit is the rotating chamber of beads, or "pearls," in the base of the shaft.